Scrolling through a Facebook group I'm in, I have noticed a general query. "Marketing help needed."
I have read the post, and the comments too to have a better understanding of the query. I quickly realised that the person is really in need of a help of digital marketing, as they were not focusing much on social media or advertising. 
But how is this two joining together? You might guess, and you might have guessed well that I gave a free piece of advice.
No judging - Every Beginner is Welcomed
Every beginning is hard. You don't know where to start, what to do, which marketing channel is better for your business. Which one is the "hot one", the "best one" and so on. 
But it can be different from business to business. One might find social media better, because they have a larger following, or one might find search engines a better way, because they get huge amount of free traffic.
It's hard to know at the beginning. You could go in full power and try out everything, but you will be exhausted in a few months, and even the results might be disappointing.
Let's have a look around our main competitors to find out how they get customers.
Analysing Competitors - Quick wins
Who is our competitor? The most obvious ones who live in the same area doing the same thing as we do (if is a service), or selling the same things we do. Let's say a phone case selling company will face many competitors, because many places sell cases, even if they are not exactly the same. A local service will have competitors doing the same things in the area. 
These companies are our first main competitors. So how do they get sales? When we identified two to three companies we tend to check what they do online. Are they active on social media? If yes, which platform do they use? Facebook, Instagram, YouTube, Twitter, etc.
Or are they using search engines, paid advertising, emails? Let's have a look at SimilarWeb to see, if we can find more information.
This picture shows the Marketing Media Channel Distribution of Rightmove's website. Now we can see how Rightmove got their online traffic. They have a very strong brand, so most people already familiar with them, and type their website address in the URL. The other big chunk of people use the search engines.
Well now, it would make sense to compete in the search engines to get customers.
Before we hit the ground and start fighting for customers, let's have a look first at our own online presence. We could ask some of our friends and coworkers to check out our website, our copy, our social media (if we have one) and write down all their feedback. 
One might say different things than the other, so its better to keep them in writing to read back after time. 
Now lets get back to our story. The next thing I did for this person was to check their website, and socials to have an idea what I should tell them. 
I have used SEO Powersuite's Website Auditor for this check to see what are the main issues with the site. Here is the actual result.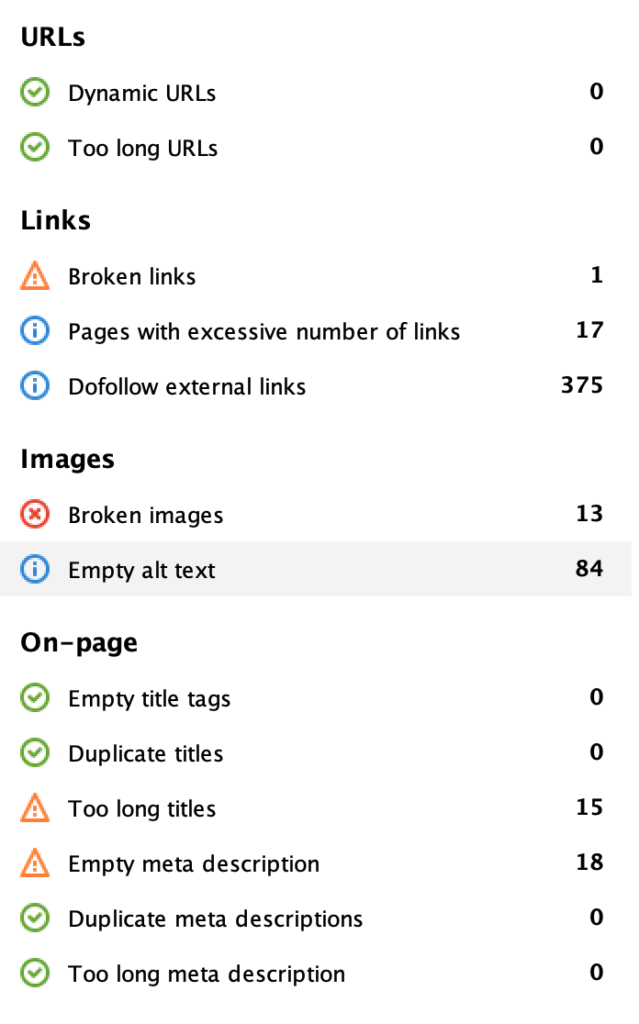 There are a few issues. We got some warnings, which should be fixed immediately, and then go on to the next issues. After checking this I was more confident to approach the person in charge for Marketing Help. 
Free Audit - But how much is it worth?
Most services and even SEO websites offer free audit as part of their package, or as a freebie. Everyone could use these websites to check their websites issues, and it would not make much sense to pay money for it, right? 
In my case, I have provided the gentleman with all these information, and even more. This was a great start for a conversation, because He could see I already made an effort to help him, not just sell him. 
Once I know a bit more about his business I could offer my honest opinion and expertise of how I would do the job. 
I even suggested offline marketing tricks to get leads. 
I believe this free audit could benefit the company in a great way. They could fix all the issues that we found during the audit, which then gives users and search engines a better experience on the website.
In social media-wise some little suggestions also could benefit the company to gain followers, and leads. 
All these advice could worth nothing, if they are not acting on it. On the other hand, once these issues are fixed, the upward benefit could be much much better, than what they thought.